We all know that skiing is a wonderful pastime – and one that almost everyone can indulge in while here on holiday. There are, however, many other ways to experience that inimitable winter feeling. We tested a few of them out for you.
How about a spot of tobogganing?
The comfortable 4-seater chairlift whisks sledders up to Gaisberg mountain, where floodlights ensure the natural toboggan run (3.5 km long) can also be enjoyed in the evening. Great fun in a group, or as a romantic twosome. Two welcoming mountain inns alongside the toboggan run entice with delightful refreshments. Suitable tobogganing equipment can be hired directly at the Gaisberg lift valley station. Price ca. EUR 10.00
The trail to Kelchalm is a somewhat sportier undertaking.
It is an uphill walk of around 4 km from the car park to the Kelchalm or Bochumer hut, during which several winding bends must be negotiated in a hike that takes around 1.5 hours. Any exertions of the ascent, however, are well compensated for with delicious home cooking served next to a traditional wood-burning stove. Sturdy footwear is an absolute must. A good headlamp is also advisable, as the natural toboggan run is not floodlit.
Jochberg is a similarly sporty excursion.
You will reach Trattenbachalm after a hike of around 2 hours. While tobogganing fun can be enjoyed on the 5 km long run during the day, the alpine farm is also accessible on foot, and everyone knows how good you feel after a brisk winter hike! Cars can be left approx. 100 m in front of the Waldwirt heading towards Pass Thurn on the right side of the byway (parking available). You can hire your toboggan in advance from Skiladl – next to the Wagstätt gondola lift, or from the Trattenbachalm direct. These are available on request in the evening. As this toboggan run is not floodlit, you are best advised to take a headlamp with you.
Ever tried "snowshoeing"?
Traversing winter landscapes whilst savouring the tranquillity away from the regular ski slopes is a magnificent experience. Those who have never tried, can take part in an introductory snowshoe hike every Monday and Thursday, organised by Kitzbühel Tourismus. Equipment is available to hire for EUR 6.00.
More experienced and sporty snowshoe hikers have the opportunity to head out on a tour with our experienced guides every Wednesday and Friday at 9:45 hrs (meeting point in front of Kitzbühel Tourismus Information Offices). Equipment hire per person costs EUR 12.00. This does not include the costs of the cable car ticket or transfer. You can register participation with Kitzbühel Tourismus up to one day prior to your intended hike by calling +43 5356 66660.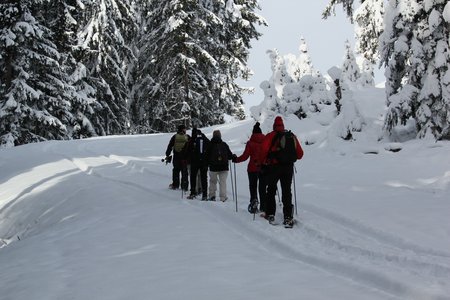 Savour the tranquillity away from the regular ski slopes
A special tip from me: hikes by full moon are a one-of-a-kind experience.
Trudging over this snow-covered winter wonderland is simply wonderful, either with snowshoes or just on foot, depending on the weather. Full moon hikes take place on the following dates: Friday, 21.12., Tuesday 19.02., Friday 19.04. Meeting point: from 18.30 hrs at Kitzbühel Tourismus. Costs per adult EUR 35.00 and per child EUR 17.50, incl. full moon snack, transfer and snowshoe or spikes rental. Please contact Kitzbühel Tourismus under +43 5356 66660 by no later than one day prior to your intended hike to register.
Horse-drawn sleigh rides are not only for the romantically inclined.
Wrapped snugly in blankets, it is a wonderful feeling to be towed through the winter landscape by a horse-drawn sleigh. Restful, relaxing and romantic all rolled into one. Just savour the leisurely pace to Schwarzsee lake in the direction of Reith. You can take a spontaneous ride by jumping into one of the carriages that await in the pedestrian zone (daily from 10 to 17:30 hrs). During public holidays, it is advisable to make a reservation with Henntalhof.
Everyone should be able to build a snowman.
It's no problem at all – at least when there is enough snow. You take three medium size balls of snow. The largest goes at the bottom, the medium sized on in the middle, and the smallest goes on the top. A couple of pieces of coal form the eyes, use a carrot for the nose – you can let your imagination run wild! P.S.: Why not build a snowwoman too!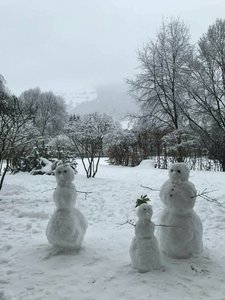 A whole family of snowmen was built here.
Ice stock sport is the greatest of fun – strike!
Ice stock sport is all about having fun, even though hard battles are sometimes fought out on the ice! It is wonderful exercise, as well as a great form of sociable entertainment. The winning team deserve a prize, don't you agree?
Here are a few opportunities for exciting competitions and fun evening get-togethers:
Ice stock sport at Sportpark – registrations under tel.: +43 5356 20222
Ice stock sport at Rasmushof – registrations under tel.: +43 5356 65252
Ice stock sport lane at Alpenhotel Schwarzsee – registrations under tel.: +43 5356 64254-331
Ice stock sport lane at Gieringer Weiher – registrations under tel.: +43 5356 63955
Ice stock sport at Aurach – "curlers" will find excellent conditions on tournament-standard lanes in Stocksporthalle Aurach behind Café Neumayr – registrations under tel.: +43 650 3626794
Ice stock sport lane at Jochberg, Jochberg curling lane is covered – registrations under tel.: +43 664 2128332
Ice stock sport in Reith b. Kitzbühel – registrations under tel.: +43 664 733 58 9 25
Skiers, or those who fancy a break from sport during the day, can really let off steam in the evening on the floodlit sports trail. The 3.3 km trail is floodlit until 21:30 hrs, allowing you to really work off all that excess energy. Perfect for those who prefer an evening workout. Floodlit and equipped with snowmaking facilities, the cross-country ski trails are directly adjacent to the Kitzbühel-Schwarzsee-Reith Golf Club (parking available), where you are perpetually surrounded by perfect views of the mountains.
And you can finish it all off with a plate of traditional "Kaiserschmarren," which you more than deserve after all this sporting activity.
You might even have won a portion by winning the ice stock sport tournament – in any case, this traditional dish has to be beautifully light and fluffy. Some prefer it with raisins, others without – however no portion of Kaiserschmarren is truly complete without a hefty dusting of icing sugar on top!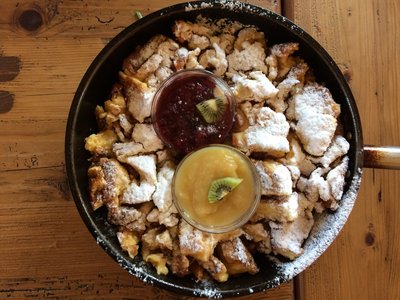 Sweet Dreams – there's always room for a portion of Kaiserschmarrn! ©Michael Werlberger | Kitzbühel Tourism
A few tips for what to get up to away from the regular slopes for those who want to try out some alternative winter experiences. Have fun!
Unvergessliche Erlebnisse im Winter
Viele kennen Kitzbühel als Skidestination - doch die Stadt inmitten der Tiroler Alpen kann noch so viel mehr. Die Aktivitäten, die Sie auch abseits der Pisten erleben können und garantiert nicht vergessen werden finden Sie hier.