Tradition-conscious family business on the Hahnenkamm
The rustic and tradition-conscious family business between the Hahnenkamm and Fleckalm lifts promises a wonderful distant view of the Kitzbühel Alps. Lisi from the Hahnenkammstüberl is also known far beyond Kitzbühel as the landlady with the good mood recipe.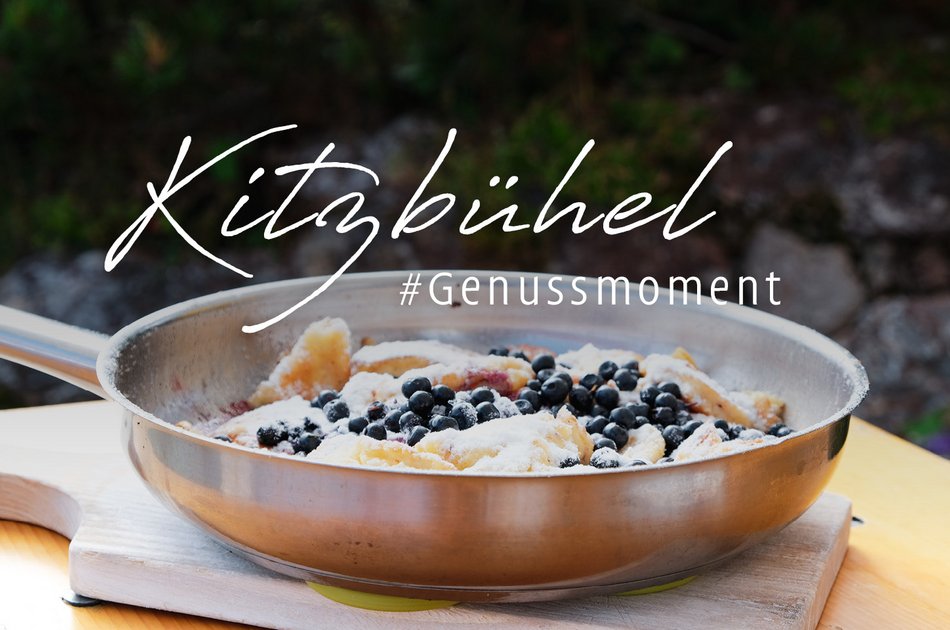 Autumn dish 2022
Kaiserschmarrn with fresh blueberries
This Austrian classic is not only an absolute hit in winter, but also fits perfectly into the Kitzbühel culinary autumn. The fresh Moosbeeren - also known as blueberries in Germany - are still picked by hand by the landlady herself. Of course, only the best berries are used in her famous Kaiserschmarrn, which she is happy to serve with raisins on request. The presentation is also a real eye-catcher: each Kaiserschmarrrn is served hot in the cast-iron pan and with plenty of powdered sugar on a wooden board.
The Hahnenkammstüberl is famous for its Kaiserschmarrn with fresh blueberries in and around Kitzbühel. Many locals and guests even claim that Lisi's place has the best cranberry pancake far and wide. The exact details of the recipe, however, remain a secret.




Anyone watching Lisi from the Hahnenkammstüberl at work would not guess that her decision to become a landlady was not a voluntary one. An injury shattered her dream of a career as a ski racer. From then on, Lisi had to take a different path. A path that took Lisi to the Kitzbühel gastronomy, from which it is impossible to imagine life today without her. Her quick wit and endless love of nature seem tailor-made for the Hahnenkammstüberl, which towers over Kitzbühel on the 6er SB Walde.
Lisi, her husband and daughter cook and bake almost everything themselves. Even the cranberries and mushrooms are hand-breaded and collected. Despite all the work, Lisi has never lost one thing: Her passion for skiing. Every evening in winter, Lisi skis down the mountain, down the Streif, in the dark, equipped with a headlamp.
Hahnenkammstüberl