Varied menu with regional specialties
At the Hochwildalm, guests can expect a varied menu that includes regional specialties - such as St. Johanner Würstl - as well as vegetarian and vegan alternatives. The alpine pasture is located at 1,557 meters in the middle of the Kitzbühel Alps at the foot of the Bischof and provides hikers and mountaineers who want to climb the Bischof, among other things, with delicious meals and a fascinating view of the surrounding mountains in a beautiful location.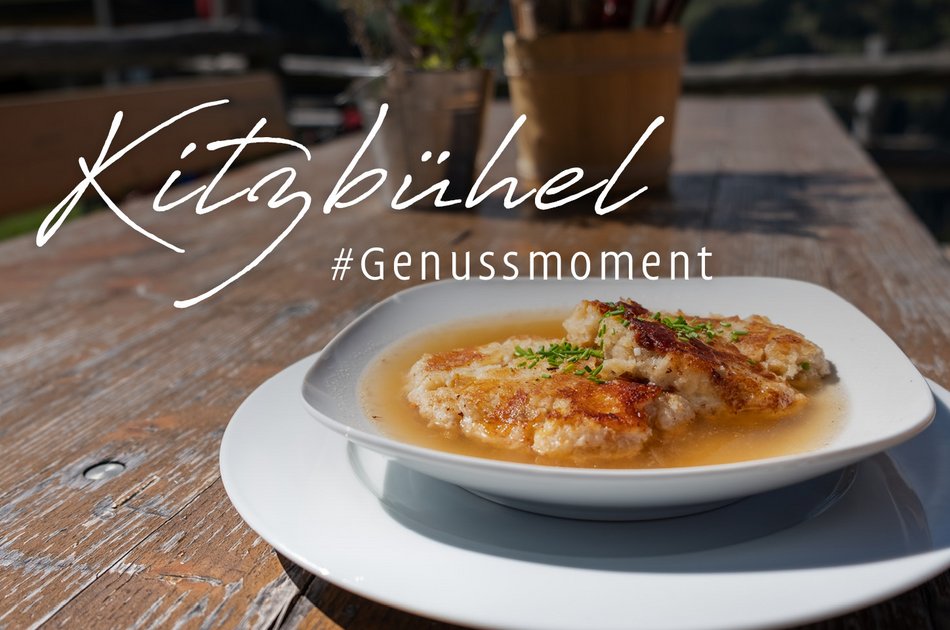 Autumn dish 2022
Kaspress dumpling soup
With the Kaspress dumpling soup the Hochwildalm has a real Tyrolean classic on its menu as autumn dish 2022 - here comes real hut feeling! For the authentic taste, a mixture of different hard cheeses from the Alps is used for the Kaspress dumpling. Regionality also plays a major role here. A Kaspress dumpling needs a lot of attention and care, otherwise it will burn during frying. If it is not formed well, the hot oil flows into the dumpling and makes it unnecessarily greasy. The Hochwildalm has perfected this art and serves the Kaspress dumpling soup to perfection.
For those who prefer not to eat warm soups in summer, a crisp salad is an alternative accompaniment.





Above Aurach near Kitzbühel lies the Hochwildalm at 1,570 m above sea level. An ascent of the more leisurely variety leads up to this sunny spot. In total, a little more than 500 meters of altitude are overcome. At the upper part of the trail, you can choose whether to hike along the forest road or take the shorter, direct climb up to the Hochwildalm. From the mountain inn Hochwildalm you have a great view of the surrounding Kitzbühel Alps.
For an overnight stay, ten beds are available in shared rooms. Around the alp there are several summit destinations, which can be climbed both on foot and in winter with skis or snowshoes.
.
Hochwildalm