Alpine refinement & culinary delights
Chef Matthias Mezera has a maxim: he offers the highest culinary pleasure with the best ingredients from the region. The two restaurants Sra Bua and Steinberg could not be more different in terms of orientation and style. And yet they are united by the same principle: the ingredients are the stars and focus of the dishes, they should be as regional and in season as possible. The rest is the best culinary craftsmanship.
Rubin Bar also serves small delicacies from the kitchen - but more important in the bar, where red and black tones predominate, are the first-class drinks. Whether champagne or cocktail, whiskey or gin - the bar team always has a suitable offer.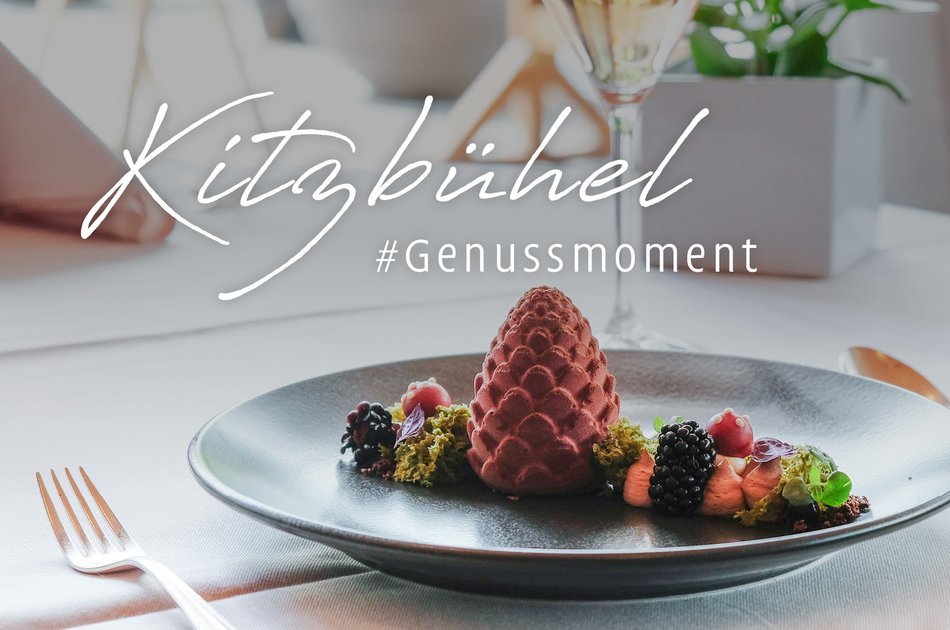 Autumn dish 2022
Chocolate mousse filled with forest berry jelly on matcha sponge and chocolate crumble
The Autumn Dish 2022 from the Kempinski Hotel Das Tirol is a very special dessert: Chef Patisserie Claudia Weber created the masterpiece "Forest & Meadow". The idea came to her during one of her many hiking expeditions through the region. As the name suggests, this plate reflects the flora of the surrounding Kitzbühel Alps in the most beautiful way.
Made of chocolate mousse, the cones are filled with forest berry jelly and are bedded on matcha sponge as well as a chocolate crumble. The liquid core of the lifelike looking toadstools consists of blackberry and this is coated in white chocolate made from the best regional hay milk. Enjoy a piece of Tyrol that Claudia will conjure up on your plate.





Young, creative Tyrolean cuisine with modern influences - all day long. The Steinberg restaurant in the Kempinski Hotel Das Tirol is for all guests who love rather hearty delicacies of the mountains. The team incorporates Mediterranean into the Tyrolean recipes and puts its own light touch on it. And the focus is anyway on the unadulterated product, which comes as far as possible from the surrounding area.
The best ingredients from Tyrol combined with the most exciting flavors from around the world: that's what awaits guests at Sra Bua in the Kempinski Hotel Das Tirol. The dishes not only convince with their appearance, but are also a real experience in terms of taste and cuisine.
Kempinski Hotel Das Tirol