Authentic top gastronomy with exceptional aroma compositions
Right in the centre of Kitzbühel, in the historic building that once housed the tax office, the Berggericht restaurant is located on the first floor and overlooks the tranquil pedestrian zone of the Hinterstadt. Under the motto "Alpine Fine Dining", Chef de Cuisine Marco Gatterer conjures up exceptional dishes with his modern and creative kitchen style that are in no way inferior to classic haute cuisine.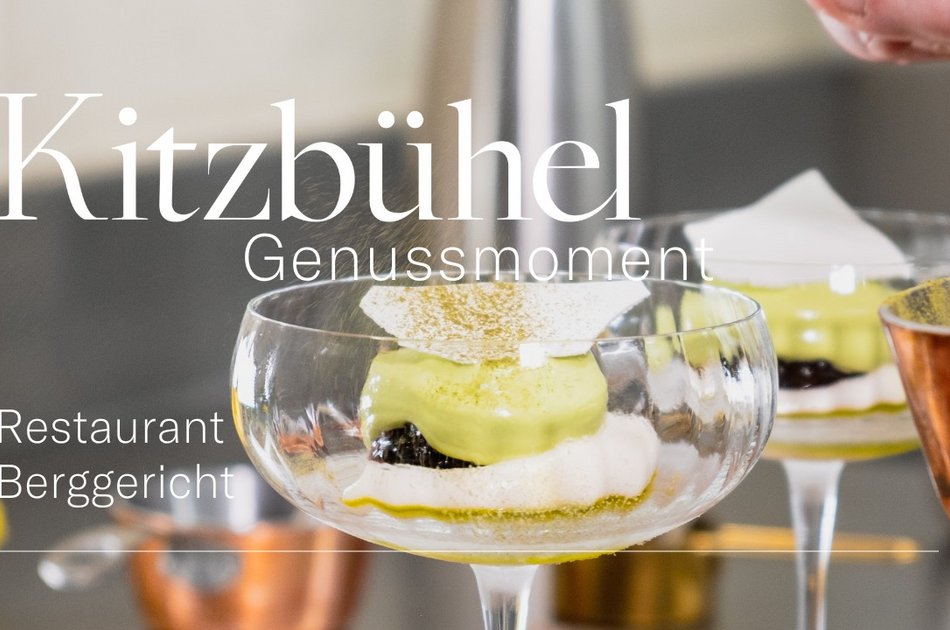 Autumn dish 2023





Westendorf goat cheese with oxalis and grape mustard
Look forward to an exceptional culinary experience at the Berggericht, whose signature dish in autumn 2023: Tender Westendorf goat cheese accompanied by fresh oxalis, refined with delicate grape mustard - a harmonious fusion for gourmets and connoisseurs.
Matching dessert: Verjus | Cranberries | Basil | Basil foam | Basil oil
Together with his team, Chef de Cuisine Marco Gatterer has further developed traditional recipes into avant-garde, flavourful compositions with a modern twist. The wine selection includes top Austrian and international wines, in addition to top-quality wines from the restaurant's own vineyards Schloß Frankenberg in Franconia and Vergenoegd - Löw in South Africa.
This is in:
Soft goat's cheese from Westendorf (which will also convince non-goat's cheese fans). Sweet and sour, with a fresh and fruity balance of grape mustard, red beet, sorrel and raspberries. The 2.5 year matured sourdough of our bread "Fridolin" makes the dish a refreshing highlight that is perfect to enjoy at the beginning of a meal.
Dessert:
Pronounced acidity from unripe grapes, perfect combination with the slight sweetness and earthiness from the blueberries, seasoned with long pepper and spiced rum. The light dessert is rounded off by the creaminess of the basil foam and the lightly salted spiced tagetes meringue - this brings minimal saltiness and slight bitterness. So this light dessert results in a taste explosion with every spoon.




With his modern and creative kitchen style, the talented chef de cuisine Marco Gatterer conjures up extraordinary dishes that are in no way inferior to classic haute cuisine under the motto "Alpine Fine Dining". In particular, the influences of his home Tyrol are brought to bear and are reflected in the dishes, true to the motto. In this way, he succeeds in creating an unforgettable experience for the guests, in which the dishes are always the focus. The finest, exquisite products from the region, prepared in an unadulterated way, and a style of cuisine that focuses on the highest level of taste form the perfect symbiosis. The result is dishes that amaze and enchant the palate.
Berggericht