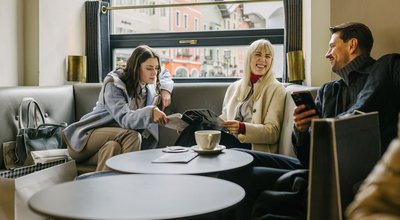 Where to go for dinner today?
Discover restaurants, cafés and farm stores now open near you.
Read more
From gourmet restaurants to alpine huts - a culinary delight
The Gamsstadt makes an excellent impression on its visitors, combining pleasure, nature, tradition, and well-being. A culinary journey through the ski resort region weaves through traditional local dishes and gourmet cuisine with an international flair. In the mountain huts and the traditional inns in the valley, simple, regional food is served hot and delicious. In the gourmet restaurants, on the other hand, elite chefs conjure up exquisite culinary delights. The restaurants in Kitzbühel range from rustic Tyrolean inns, to award-winning restaurants that have received multiple international accolades, like the Tennerhof Gourmet & Spa de Charme Hotel.
Tip: Alpine Aperitivo in the Greenhouse Bar at the Boutiquehotel ERIKA Kitzbühel
During the Aperitivo experience (EUR 13.00 per person) you have the option to choose between a delicious cocktail, a refreshing beer or a glass of exquisite wine. A selection of the exquisite canapés will be served as the perfect accompaniment.
The offer is valid daily from 16:30 to 18:30.
In the Greenhouse Bar & Lounge you will experience a unique relaxed atmosphere of the Alpine region. Here locals and guests come together, share stories and make friends.
Learn more