With Sabine you feel right at home. In her idyllic garden with a view of the mountains, you can forget the daily routine for a while with fresh farmhouse bread.
Just like in Sabine's Backhäusl, here the clocks go slower. Every Wednesday she bakes her bread according to an old recipe in a traditional wood-burning oven.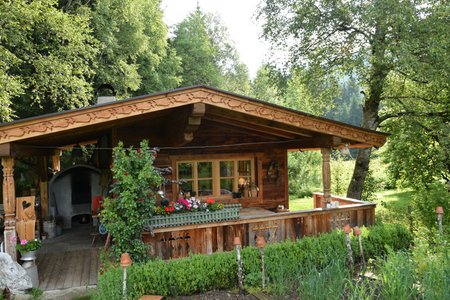 ©Kitzbühel Tourismus – Sabine's Backhäusl in Aurach
A very special place

Barefoot Sabine stands in her garden, wipes her hands on her short leather pants and welcomes her guests. They are hands that can tackle. The rake still firmly in her grip, the warm hostess points to tubers, flowers and leaves in her colourful vegetable patch. Old varieties grow alongside marigolds and lemon balm. Behind them lies the actual heart of the house, the wood-burning oven.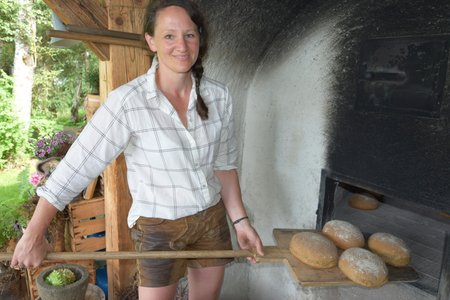 ©Kitzbühel Tourismus – Der Holzofen, das Herzstück im Garten von Sabine
"It's not like an electric stove that you switch on at 240 degrees and know that it works," explains Sabine. She learned from her grandmother how to bake bread in a wood-fired oven using old craftsmanship. Every Wednesday she heats the oven and kneads her dough. Concentrated and experienced. When the oven is at the right temperature everywhere, the embers come out and the bread goes in.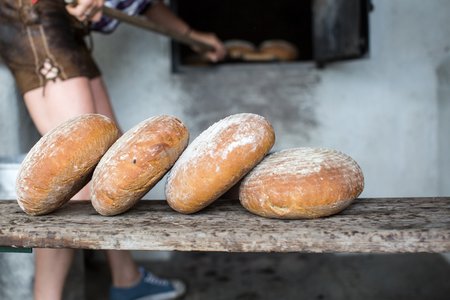 ©Florian Lechner – es duftet wunderbar das frische Brot!
Flour, water and salt for the farmhouse bread
Sabine has always been interested in bread, and actually in everything that has to do with the past. Like the way of life or the way of working. "In the past, people worked hard, but there were also fixed times when people didn't work. You don't know that anymore," she explains. Sitting on the bench in the evening, enjoying a productive day and many small things – that's something the self-employed hostess misses in the hectic world and reestablishes in her bakery.
Here you can learn about the traditional bread recipe, the traditional production and the old oven. But it is also about hospitality and the feeling of simply being free for a while.
Flour, water and salt. That's all it takes to make good bread. And bread spice, that is fennel, caraway, aniseed and coriander. Simple, yet unsurpassed: A sandwich with chives is a royal meal for Sabine. But when she gets guests, she really cooks up. Crusted roast and choux pastry grapes are her speciality. The large pan with the freshly prepared delicacies comes straight to the table. Everybody scoops it up themselves and grabs it heartily. Then they eat and gossip happily. In the best case, the mobile phone also stays in the bag.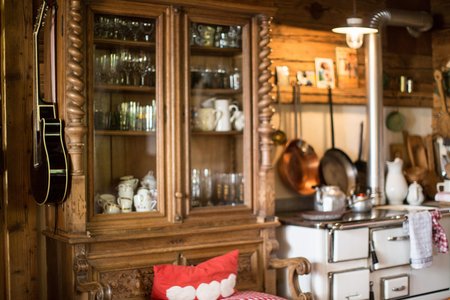 ©Florian Lechner – die gemütliche Stube im Backhäusl von Sabine
I do not want to bend
"I don't like success at all," explains Sabine and immediately finds a word that feels better: satisfaction. For a long time the busy hostess has been looking for a way to make what she likes doing her job. Without an apprenticeship as a baker, it was not easy for the trained florist to realize her dream. Ten years after the first idea, the wood stove was built, the snack station was opened and the first small company sat at her table. "It happened almost too fast for me then – I wasn't prepared for it", Sabine looks back today. She soon realized that people like it: the normal, the down-to-earth.
"It would be nonsense if I said I didn't want to make money, but I don't want to bend over backwards. I want to do something where I see a purpose behind it", explains Sabine. After years in various catering establishments, she has found her fulfilment in self-employment. If a registered group does cancel after all, she is happy about a day off. She prefers to spend it in the mountains and with her family.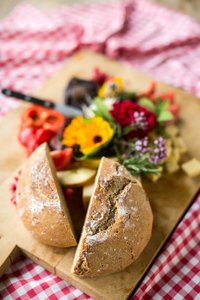 ©Florian Lechner – selbstgemachte Köstlichkeiten kommen bei Sabine auf den Tisch
A feeling like at home
"You know the people, you know the area, you grew up there – you're comfortable here." Home is especially important to Sabine. Her love for the Kitzbühel region is also reflected in the selection of products she uses in the bakery. What she does not grow in the garden herself, she gets from farmers in the village. The flour comes from organic farming and if she can call the individual farmers by name, this is a special quality feature for her guests. Above all, the many locals who stop by her place appreciate this regionalism.
Time flies by. After a few hours in Sabine's idyllic little world, it's back home again. But many leave as friends and are sure that they will come back.
#LocalHeroes from Kitzbühel
People are behind all the special moments in Kitzbühel and its holiday villages of Reith, Aurach and Jochberg. Such personalities are the focus of our "Local Heroes" series, in which we turn the spotlight on the true heroes of our region. Though these courageous individuals probably don't consider themselves to be heroic, in our eyes they are. After all, their passion contributes to Kitzbühel's unique way of life.
Thank you very much for the lines and pictures provided by BEST OF THE ALPS.
This article was originally published in a longer version by Version bei Best of the Alps.
Text: Elisa Heißenberger // friendship.is
Bilder: Florian Lechner // friendship.is