The host with the good mood recipe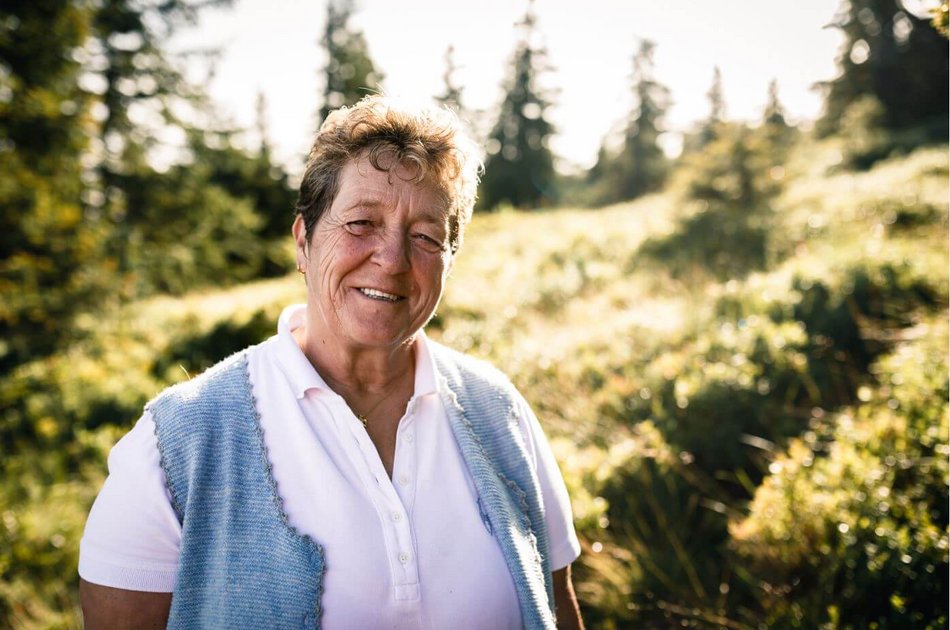 I may not be a skilled landlady, but I'm a convinced one.
Anyone watching Lisi from the Hahnenkammstüberl at work would not guess that her decision to become an innkeeper was not voluntary. An injury shattered her dream of a career as a ski racer. Lisi had to take a different path from then on. A path that took Lisi into the Kitzbühel gastronomy, which today is unthinkable without her. Her quick-wittedness, her joie de vivre and her endless love of nature seem to be tailor-made for the Hahnenkammstüberl, which is enthroned above Kitzbühel in the forest.
We have the most beautiful place on the Hahnenkamm and I never want to give it back
The fact that Lisi never gives her "place" back is also in the interest of all her guests, whom she spoils with her sliced blueberry pancakes. "The nicest thing for me is when I see a few people who are not in such a good mood come and then leave with a smile – perhaps because they have eaten my sliced blueberry pancakes.
Lisi's legendary sliced blueberry pancakes​​
The Hahnenkammstüberl in and around Kitzbühel is famous for this Tirolean dish. Many locals and guests even claim that Lisi has the best sliced blueberry pancake far and wide. She can't give away the exact details of the recipe, Lisi smiles. "Otherwise everyone else will know it too".
When asked whether Lisi would describe herself as a "genuine Kitzbühel landlady", the prompt answer follows: "I am a primary rock – for 40 years". And she is not only from Kitzbühel, but from the Hahnenkamm. Her father grew up on the Melkalm on the Hahnenkamm. Her "place" has always been for Lisi not only a workplace and home but above all a source of strength. The landlady often sits on her bench in front of the Hahnenkammstüberl early in the morning and watches the sun rise over Kitzbühel. "That fills you with energy – you wish your guests could see that too, but they usually arrive a little later," Lisi laughs.
The sunrise magic is followed by work. Lisi, her husband and daughter cook and bake almost everything themselves. Even the blueberries and mushrooms are hand-baked and collected. Despite all the work, Lisi has never lost one thing: Her passion for skiing. Every evening in winter Lisi skis down the mountain, down the Streif, in the dark, equipped with a headlamp. "This is the most beautiful thing that can happen to you and the mountain is yours alone". The next day at the latest, Lisi has to share the mountain again with her guests, who come to be enchanted by the legendary sliced blueberry pancakes and Lisi's resounding laughter.
#LocalHeroes from Kitzbühel
It is the people who make Kitzbühel and its holiday villages of Reith, Aurach and Jochberg so special. These are exactly the personalities we are talking about in our "LocalHeroes" series, in which the true heroes of our region are put in the spotlight. They probably would never call themselves heroes, but they are: Because it is only through their passion for what they do that we can all experience the unique Kitzbühel lifestyle.
Wir bedanken uns herzlich für den Text, die Bilder und das Video, welche uns von e3 media house zur Verfügung gestellt wurden.