Tyrolean cuisine in a stunning location
Traditional cuisine, a cosy sun terrace and Tyrolean hospitality - all this awaits guests at Alpengasthof Melkalm. Already run as a family business in the fourth generation, the Melkalm impresses with its unique flair and delicious home cooking. Arrive and enjoy the fresh air and sunshine on the terrace with spectacular views. The Melkalm also offers its guests overnight accommodation in lovingly furnished rooms with panoramic views of the Alps.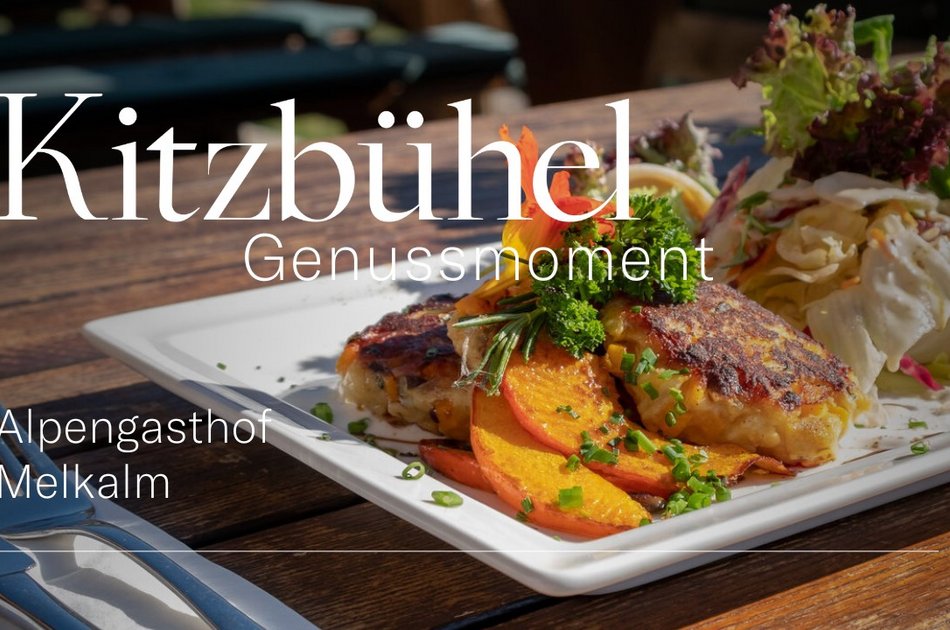 Autumn dish 2023
Pumpkin and cheese dumplings on mixed salad
Succulent pumpkin and cheese dumplings, artfully placed on a fresh mixed salad. A perfect combination of hearty warmth and crisp freshness that pleases palates and eyes alike.
But you can also look forward to home-style cooking. Whether Tyrolean Gröstl or the particularly recommendable Kaspressknödel - at the fourth-generation alp, guests will find everything their hearts desire. And afterwards? Those who still have room in their bellies can look forward to a good portion of Kaiserschmarrn, apple strudel, homemade cake or Germknödel (yeast dumplings)!
How it works:
Place the dumpling bread in a bowl, peel and finely dice the onions and finely dice the pumpkin. Melt the butter in a pan and sauté the onion and pumpkin cubes until the pumpkin is cooked through. Let cool slightly and add to the dumpling mixture.
Add the cheese, milk and eggs to the dumpling bread, mix everything with the spices and herbs until well mixed. Leave to stand for 10 minutes.
With slightly damp hands, turn round dumplings and flatten. Add oil to a pan and fry until crispy brown on both sides.
Serve with salad or coleslaw, a fine sour cream dip would also go very well.




Thanks to its beautiful location on the Hahnenkamm, the Melkalm offers you the ideal starting point for hikes, skiing and mountain bike tours. Especially after sporting activities, the alp is easy to reach and wonderful to use as a place to rest. Let yourself be pampered. Good food and drinks are balm for body and soul. The kitchen team will also be happy to cook especially for your event or for your group over a booked weekend.
Melkalm