Florian is not a trained restaurateur, but he discovered his love for tourism already as a child, when he was allowed to carry milk to a guesthouse in the village. "My childhood dream was to become either a construction worker or a hotelier, and yes, the hotelier won." His open approach to everything new is still evident today.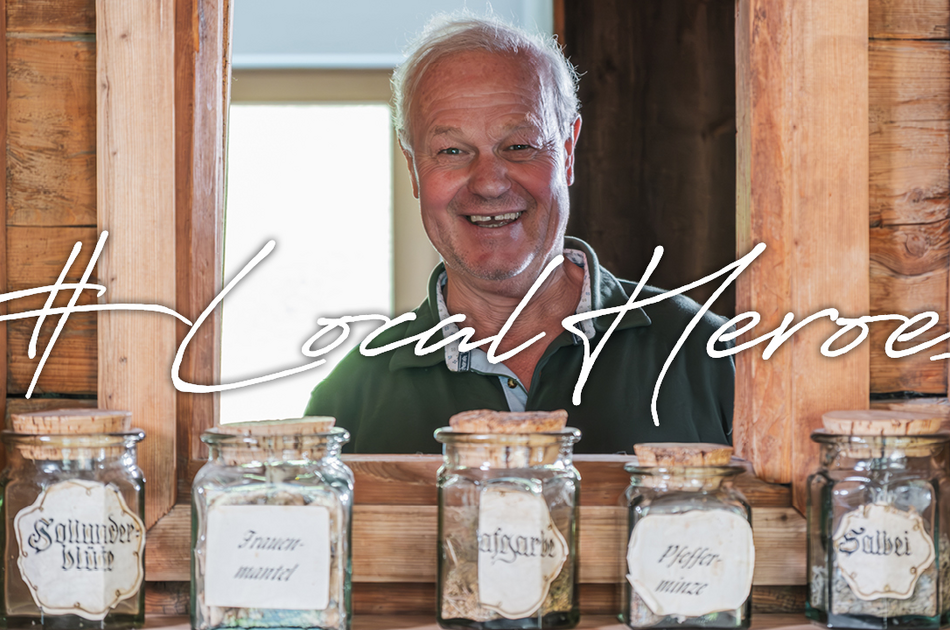 Florian Pointer didn't have it easy with his sometimes extraordinary ideas for his time. When he opened the "Frühstückspension Florian" (Florian Bed and Breakfast) in 1973, he consciously invested in guest comfort based on the advice of an industry expert, equipping all guest rooms with private bathrooms even back then. In 1979, he transformed his bed and breakfast into a hotel. Despite not being a trained hotelier, he was well aware that he needed to continuously educate himself. Therefore, he attended all the important hospitality courses offered by WIFI Innsbruck and Kitzbühel.





Why vegetarian, smoke-free, and without background music
Florian Pointner was one of the first in Kitzbühel to not only notice but also engage with the rise of the vegetarian lifestyle. When a guest even suggested, "If you offer only vegetarian food, make the hotel smoke-free, eliminate background music, and remove televisions from the rooms, I will become a regular guest," Florian was convinced that it was worth a try. What happened next surprised the passionate restaurateur. Naturally, the hotel lost some regular guests due to the changes, but in contrast, it attracted many new guests who eventually became regulars themselves.
In the end, we had more people than before.




Seminars and Yoga - "Yoga came to me."
Education has been and continues to be a significant concern for Florian. A self-discovery seminar in Germany was the catalyst for him to also offer seminars in his hotel. Florian was well aware that self-discovery seminars might encounter misunderstandings in a small place like Reith, but he didn't mind at all. What matters to him is that participants in his seminars take away something valuable. In the late 1990s, the yoga group led by Swami Durgananda was in search of new premises and came across the Bio- and Seminarhotel Pointner in Reith. The yogis were almost surprised to find that everything needed for the yoga participants was already available, except for larger training rooms. The food was vegetarian, there was no background music, and there were no televisions in the bedrooms.
The yoga participants love the landscape, the tranquility, and the harmony with nature that becomes palpable around the hotel. "Of course, we have our differences," Florian said, "it starts with our beliefs, but I told them, you have your beliefs and we have ours." Florian slyly tells us that his collaboration with Swami Durgananda has lasted for over 20 years based solely on a handshake agreement.
"What good is a contract if there's no human connection? If that resonance isn't there, what do you do?"







Bio- and Seminarhotel Pointner - Always Keeping the Environment in Mind
As a pioneer in environmental and nature conservation, the hotel received the Tyrolean Environmental Seal in 1994 and became the first hotel in Tyrol to receive the Austrian Ecolabel in 1997. In 2003, the hotel became the first in Austria and the third in Europe to be awarded the European Ecolabel.
Thanks to its unique concept, the hotel received all these awards without major modifications and was always well-prepared for the requirements.
At the Bio- & Seminarhotel Pointner, 100% organic products are used, some of which come from their own agriculture. Only vegetarian meals are served, freshly cooked without the use of flavor enhancers and ready-made products. The comprehensive waste reduction and separation concept contributes to a significantly lower residual waste amount per overnight stay compared to the average. The hotel uses 100% certified green electricity, 100% heat from renewable sources, and products with Austrian Ecolabel or European Ecolabel. Since 2017, guests at the Bio- & Seminarhotel Pointner have been staying carbon-neutral. Additionally, as a member of the Climate Neutrality Alliance 2025, the hotel offsets its CO2 emissions.
Florian is eager to share his knowledge about environmental protection and how to integrate environmental practices into gastronomic businesses. Aside from giving talks in Austria, Florian has also shared his expertise in countries like Switzerland and Italy.
The Kitzbühel Formula
Alpine lifestyle and idyllic nature, rustic traditions and modern sensibilities: Few cities blend these contrasts as seamlessly as Kitzbühel. The sporting capital of the Alps gained global fame through the legendary Hahnenkamm races, but that's just one facet of the Kitzbühel legend. It's the unparalleled charm of the region, encompassing places like Kitzbühel, Reith, Aurach, and Jochberg, along with outstanding infrastructure featuring top-tier hotels and gastronomy. The multitude of athletic opportunities and the captivating landscape contribute to making Kitzbühel truly unique.